About Us
Memories of India is a Indian takeaway in Gorebridge. Why don't you try our Would You Like to Add Extras? or Punjabi Sabzi Achar?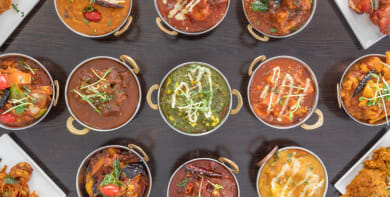 Reviews
360 reviews
Alison
"10/10! Early delivery and courteous driver. Food was delicious and still piping hot! Will always be my favourite Indian takeaway 💜"
04/12/2020
keith
"Superb"
29/11/2020
Nina
"Fantastic as always, cannot recommend this place more, true taste of India <3"
21/11/2020
keith
"First class - as ever!"
20/11/2020
Menu
Chicken Tikka Kebab Main
Diced chicken marinated with spices, mint & herbs then grilled on skewers
Contains dairy
£7.70
Lamb Tikka Kebab Main
Diced lamb marinated with spices, mint & herbs then grilled on skewers
Contains dairy
£7.70
Shashlik Tandoori Chicken
Marinated lamb OR chicken cooked in the tandoor, sauteed with onion, tomato, green pepper, fresh coriander leaves & spring onion
Hot
Contains dairy
£9.15
Shashlik Tandoori Lamb
Marinated lamb OR chicken cooked in the tandoor, sauteed with onion, tomato, green pepper, fresh coriander leaves & spring onion
Hot
Contains dairy
£9.15
Tandoori Mixed
Tandoori chicken, chicken tikka, lamb tikka, sheek kebab & king prawn
Contains dairy
£12.90
Tandoori King Prawn Main
Marinated king prawns on skewers
Contains dairy
£12.90
King Prawn Pathia on Puree
King prawns cooked in a medium hot sauce enriched with green coriander & set on puffed fried bread
Contains gluten
£6.50
King Prawn Pakora
King prawn coated in spiced gram flour & fried in oil, served with salad & sauce
Contains gluten
£6.50
King Prawn Butterfly
King prawns fried in special batter with salad & sauce
Contains gluten
£6.50
Barbecued King Prawn
King prawns barbecued
£6.50
Fish Pakora
Haddock coated in spiced gram flour & fried in oil, served with salad & sauce
Contains gluten
£4.95
Assami Chicken Tikka Biryani
Tandoori grilled chicken tikka kebab with saffron, then stir fried with Tilda basmati rice & clarified butter. Decorated with butter-fried onion, slices of cucumber & tomato
Comes with puri bread
Contains gluten
£10.45
Assami Lamb Tikka Biryani
Tandoori grilled lamb tikka kebab with saffron, then stir fried with Tilda basmati rice & clarified butter. Decorated with butter-fried onion, slices of cucumber & tomato
Comes with puri bread
Contains gluten
£10.45
King Prawn Biryani
This is a very special festive dish in fishing villages in Karaikal. Lightly browned king prawns along with Tilda basmati rice, clarified butter. Decorated with saffron, butter-fried onion, slices of cucumber, tomato
Comes with puri bread
Contains gluten
£13.90
Old Dhaka Chicken Biryani
A nourishing preparation of Tilda basmati rice along with tender chicken pieces, clarified butter. Decorated with saffron, butter-fried onions & slices of cucumber & tomato
Comes with puri bread
Contains dairy
£9.45
Old Dhaka Lamb Biryani
A nourishing preparation of Tilda basmati rice along with tender lamb pieces, clarified butter. Decorated with saffron, butter-fried onions & slices of cucumber & tomato
Comes with puri bread
Contains dairy
£9.45
Shillong Sabzi (Veg) Biryani
A beautiful preparation of Tilda basmati rice together with steam-cooked mixed vegetables, clarified butter. Garnished with sliced cucumber, tomato & lemon
Comes with puri bread
£7.45
Sylheti Roshun Morich Chicken
Steam cooked chicken in a hot, dry, red chilli, chopped garlic, ginger & spicy tomato puree. Topped with ground roasted cumin & coriander leaves
Hot & spicy
£7.70
Tandoori Coriander Chicken
Chicken tikka cooked in mint, onion & capsicum with lots of fresh coriander
Medium to hot
Contains dairy
£7.70
Sheshni Murgh
Marinated chicken breast pieces barbecued in the clay oven & cooked in a sweet & sour sauce
Medium to hot
Contains dairy
£7.70
Mysore Chicken Tikka Makhani
Tandoori grilled tikka kebab cooked in mild spices, cream, sweet mango chutney & lime juice. Finished with ground almond powder, coriander leaves
Mild
Contains dairy
Contains nuts
£7.70
North Indian Chilli Garlic Chicken
Tandoori grilled chicken in hot chilli & fresh garlic, garnished with fresh coriander & a touch of ginger
Very hot & spicy
Contains dairy
£7.70
Redford Chicken
Diced chicken breast is cooked in fresh cream with herbs to produce this smooth mild dish
Mild
£7.70
Reshmi Chicken Chasnidar
This is a South Indian flavoured dish. Chicken tikka enhanced in a rich coconut milk sauce & a mixture of original Madrasi spices
Medium to mild
Contains dairy
£7.70
Maharam Chicken Tikka Massalam
Charcoal grilled pieces of chicken, fresh yoghurt, lemon juice & aromatic tandoori spices in a rich creamy sauce, ground almond powder, completed with fresh cream
Mild
Contains dairy
Contains nuts
£7.70
Bengali Green Chicken
Chicken cooked with green pepper, mint, fresh coriander, green chilli, mixed spices & lime juice
Hot
£7.70
Ajmeri Chicken Pista Pasanda
Finely sliced tandoori roasted chicken, cooked in ground almond, pistachio, fresh cream & mild exotic spicy based sauce. Finished with butter fried onion, broken pistachios & coriander leaves
Mild
Contains dairy
Contains nuts
£7.70
Butter Chicken
Succulent pieces of chicken tikka cooked with yoghurt & ground herbs. Smooth to taste
Mild
Contains dairy
£7.70
Chicken Jaipuri
Marinated chicken with fried mushrooms, fried onions, fresh herbs & spices
Medium to hot
Contains dairy
£7.70
Chicken Tikka Karahi
Marinated chicken tikka cooked with fresh green pepper, onions & tomato paste
Contains dairy
£7.70
Chicken Tikka Mushrooms & Cream
Chicken tikka pan-fried with mushrooms, onions, green peppers, herbs, spices & a touch of cream
Medium to hot
Contains dairy
£7.70
Chicken Tikka Nentara
Tikka chicken cooked in yoghurt, mango chutney & tomato sauce. Resulting in a tangy flavour
Contains dairy
£7.70
Chicken Tikka Sag
A delicious combination of chicken tikka with fresh spinach, onions & coriander
Medium
Contains dairy
£7.70
Jaisalmeri Chicken Jalfrezie
Diced barbecue chicken with fresh chopped green chilli, green pepper, cubed onion & fresh coriander. Garnished with grated fresh ginger
Hot & spicy
Contains dairy
£7.70
Karnataka Khum Chicken
Tender pieces of chicken kebab together with button mushrooms, fried cubed onion, green pepper & thick spicy sauce. Garnished with a pinch of fried garam massalam
Medium
Contains dairy
£7.70
Kashmiri Kata Massala
Spring chicken tikka cooked with tomato puree, red pepper, crushed garlic, ginger, coriander & exotic kashmiri spice paste. Finished with fresh chopped tomato & coriander leaves
Fairly hot
Contains dairy
£7.70
Kathmandhu Murgh
Chicken tikka kebabs deliciously cooked with fresh garlic, ginger, spring onions & lentils
Medium to hot
Contains dairy
£7.70
Ginger Murgh
Fairly hot chicken tikka dish cooked in ginger sauce with lots of coriander, producing a spice taste
Fairly hot
Contains dairy
£7.70
Green Herb Chicken
Tandoori grilled chicken in a spicy sauce of tomato, green peppers & fresh coriander leaves. Garnished with spring onions & fresh ginger
Medium to hot
Contains dairy
£7.70
Hara Massala Chicken
An extremely popular dish from West Bengal. Lightly seasoned chicken tikka cooked in peeled tomato, green peppers & fresh coriander with sauce. Garnished with spring onion
Medium
£7.70
Coconut Chicken Tikka Korma
Marinated chicken breast pieces cooked on skewers & served in a mild & creamy sauce of coconut cream & coconut milk
Mild
Contains dairy
£7.70
Chicken Tikka Dupiaza
Well maintained barbecued chicken kebab. A garnished dish with lots of cubed onion, green pepper, tomato & dozens of fresh spices & herbs
Medium
Contains dairy
£7.70
Chicken Phall
The hottest curry of them all! If you can handle this you can handle anything!
Very very hot
£7.70
Hara Massala Lamb
Steam cooked tender lamb in tomato, green pepper, fresh coriander & whole green herbs. Garnished with chopped spring onion
Medium
£7.70
Green Herb Lamb
Steam cooked lamb in a spicy sauce of tomato, green peppers, fresh coriander leaves & garnished with spring onions & sprinkles of fresh ginger
Medium to hot
£7.70
Jhansi Lamb Jalfrezie
Tender pieces of juicy lamb tikka cooked with fresh chopped green chillies, green pepper, crushed onion & fresh coriander. Garnished with a touch of grated ginger
Hot & spicy
Contains dairy
£7.70
Kanpuri Karahi Lamb
Barbecued shoulder of lamb chunks stewed in a fresh coriander, tomato, onions & spicy green chilli sauce. Completed with fried ground garam massala
Medium
£7.70
Aloo Gosht
Tender lamb cooked with potatoes, herbs & spices, medium hot & simply delicious
£7.70
Bengali Green Lamb
Lamb cooked with green pepper, mint, coriander, green chilli, mixed spices & lime juice
Hot & spicy
£7.70
Methi Gosht
Lamb cooked with herbs, methi (fenugreek) & fragrant spices
Exclusive & delectable
Medium hot
£7.70
Kulu Kata Massala Lamb
Diced pieces of lamb with sliced onion, garlic, ginger, cardamom, cloves, cinnamon, bay leaf & cumin in a thick sauce. Garnished with coriander & fried garam massala
Medium & spicy
£7.70
Lamb & Mushroom Dupiaza
Steamed cooked lamb with baby mushrooms, garnished with fresh garlic, ginger & capsicum
Medium hot
£7.70
Lamb Jaipuri
Marinated lamb tikka with fried mushrooms, fried onions, fresh herbs & spices
Medium to hot
Contains dairy
£7.70
North Indian Chilli Garlic Lamb
Steam cooked lamb in hot chilli & fresh garlic, garnished with fresh coriander & a touch of ginger
Very hot & spicy
£7.70
Old Delhi Lamb Rezala
A nourishing old Delhi style dish consisting of chopped lamb, grated onion, garlic, ginger & exotic spices. Cooked with whole green chillies, a touch of fresh yoghurt & a few drops of rose water
Medium
Contains dairy
£7.70
Punjabi Chana Gosht
Tender lamb steamed with boiled Punjabi chickpeas in a sharp ground spicy sauce & fresh lemon juice. Garnished with fresh ginger & coriander leaves
Medium & slightly sour
£7.70
Navratan Lamb Tikka Makhani
Marinated lamb cooked in mild ground spices with fresh cream, a touch of mango chutney & lime juice. Garnished with fresh coriander leaves & halved tomato
Sweet & Sour
Contains dairy
£7.70
Peshwari Lamb Pasanda
Thinly sliced tikka lamb with freshly ground almond, pistachios, fresh cream & mild spicy sauce. Finished with butter fried onion, broken pistachios & coriander leaves
Mild
Contains dairy
Contains nuts
£7.70
Udaipuri Lamb Tikka Massalam
Pieces of lamb roasted in the tandoor, then cooked in a natural yoghurt, cream, lemon & tandoori flavoured spicy sauce. Decorated fresh cream & coriander
Mild
Contains dairy
£7.70
Sylheti Roshun Morich Lamb
Steam cooked lamb in a hot, dry red chilli, chopped garlic, ginger & tomato puree sauce
Hot & spicy
£7.70
Sag Gosht
Steam cooked lamb with fresh spinach, chopped garlic & whole green herb sauce. Garnished with green chillies & coriander leaves
Medium hot
£7.70
Vegetable Jalfrezie
Mixed fresh vegetables with chopped fresh green chillies, green peppers, cubed onions, garlic, grated ginger & coriander
Hot & spicy
£6.95
Pune Tandoori Beigan
A whole clay oven roasted aubergine stuffed with potato, cauliflower, chickpeas & cashew casserole, accompanied with fresh & crunchy bean salad
Medium
£6.95
North Indian Chilli Garlic Vegetable
Mixed fresh vegetables, cooked with hot fresh chilli, chopped garlic, ginger, onions, coriander, green pepper & spices
Very hot & spicy
£6.95
Pushkari Sag Panir
Steam cooked fresh spinach with homemade cottage cheese, in mild to medium Pushkari style spices. A very popular dish
Medium
Contains dairy
£6.95
Mixed Sabzi Almond Korma
Mixed vegetables, prepared with fresh cream, coconut, ground almond & mild spices. Garnished with sultanas & flaked almonds
Mild
Contains dairy
Contains nuts
£6.95
Madrasi Sag Mushroom
Steam cooked fresh spinach & whole button mushrooms tossed with finely milled madrasi spices, including mustard seeds. Garnished with roasted cumin
Hot
£6.95
Kashmiri Sabzi Karahi
Crunchy vegetables cooked in a tomato puree, red pepper, crushed garlic, ginger & kashmiri spices. Garnished with chopped tomatoes & coriander leaves
Medium
£6.95
Bombay Beigan & Mushroom Jalfrezie
Diced aubergine & whole button mushrooms cooked with green pepper, onions & green chilli in a medium spicy sauce. Garnished with ginger & coriander
Fairly hot
£6.95
Punjabi Sabzi Achar
Mixed vegetables combined with boiled chickpeas in a sharp ground spicy sauce with a touch of Punjabi pickle. Garnished with a slice of lemon & coriander leaves
Fairly hot
£6.95
Sabzi Nouratan Bahar
Mix of 9 seasonal vegetables - potatoes, peas, carrots, cauliflower, cabbage, green pepper, onion, mushrooms & aubergines stir fried with healthy herbs & spices
Garnished with homemade panir
Medium
£6.95
Sabzi Lanka Dall
Selection of vegetables steamed-cooked with chopped green chilli, coriander & mixed lentils with a touch of fresh ginger
Fairly hot
£6.95
Mint Sauce
Contains dairy
£0.60
Balti Achar Gosht
Chunky lamb cooked with various fresh herbs, pickles & tomato
£7.70
Balti King Prawn Rushni
King sized prawns cooked with garlic & flavoured balti sauce
£12.90
Balti Murgh Rushni
Diced chicken cooked in medium strength balti sauce, flavoured with garlic
£7.70
Chicken Tikka Balti
A traditional stir fried dish. We use onion & capsicum with selected spices to create the distinct flavour of the balti
£7.70
Chapati
Unleavened whole wheat bread
Contains gluten
£1.40
Garlic Nan
Stuffed with crushed garlic & coriander
Contains dairy
Contains gluten
£2.90
Puri
Deep fried thin bread
Contains gluten
£1.40
Sabzi Paratha
Stuffed with mashed mixed vegetables
Contains dairy
Contains gluten
£2.90
Peshwari Nan
Stuffed with sultanas, almond & coconut
Contains dairy
Contains nuts
Contains gluten
£2.90
Plain Nan
Fluffy tandoori baked leavened bread
Contains dairy
Contains gluten
£2.50
Plain Paratha
Butter fried unleavened bread
Contains dairy
Contains gluten
£2.90
Keema Nan
Stuffed with spiced minced meat
Contains dairy
Contains gluten
£2.90
Chicken Tikka Starter
Marinated pieces of chicken breast freshly cooked in the clay & served with salad & sauce
Contains dairy
£3.95
Lamb Tikka Starter
Marinated pieces of lamb freshly cooked in the clay oven & served with salad & sauce
Contains dairy
£3.95
Chicken Tikka Pakora
Marinated chicken breast fried in a spicy batter & served with salad & sauce
Contains dairy
Contains gluten
£3.95
Sheekh Kebab
Tender minced lamb with spices, mint & herbs, grilled on skewers & served with salad & sauce
Contains dairy
£3.95
Mixed Starter
A mixture of chicken tikka, lamb tikka, sheikh kebab, chicken & vegetable pakora, served with salad & sauce
Contains dairy
Contains gluten
£4.95
Chicken Chatt
Chicken breast pieces cooked in a medium hot sauce & served on puffed bread
Contains gluten
£4.95
Lamb Samosa
Deep-fried stuffed savoury pasty using tender pieces of lamb & served on puffed bread
Contains gluten
£3.95
Shami Lamb Kebab with Fried Onions
Delicious minced lamb kebabs topped with fried onion & served with salad & our special yoghurt sauce
Contains dairy
£3.95
Keema Rice
Pilau rice with spicy minced meat
Contains dairy
£3.50
Mushroom Fried Rice
Pilau rice with sliced mushrooms
Contains dairy
£3.50
Ghee Pilau Rice
Basmati fried rice in purified butter with onions & fresh coriander
Contains dairy
£3.50
Chickpea Fried Rice
Pilau rice with chickpeas
Contains dairy
£3.50
Egg & Pea Fried Rice
Pilau rice with egg & green peas
Contains dairy
£3.50
Basmati Plain Boiled Rice
£2.60
Vegetable Fried Rice
Pilau rice with mixed vegetables
Contains dairy
£3.50
Tilda Basmati Pilau Rice
Saffron rice
£2.90
Bhindi Bhaji
Freshly spiced okra
£3.95
Aloo Mushroom
Potato & mushroom
£3.95
Aloo Panir
Potato & cottage cheese
Contains dairy
£3.95
Anaros Dall Sambar
Pineapple in lentil & tamarind sauce
£3.95
Aloo Beigan Bhaji
Potato & aubergine
£3.95
Aloo Gobi
Potato & cauliflower
£3.95
Bombay Aloo Bhaji
Spiced potato
£3.95
Chana Aloo
Potato & chickpeas
£3.95
Chana Bhuna
Chickpeas in coriander sauce
£3.95
Chana Mushroom
Chickpeas & mushroom
£3.95
Chingri Beigan Bhaji
Prawns & chopped aubergine
£7.45
Cucumber Raita
Freshly spiced yoghurt with sliced onion, tomato, cucumber & cumin seeds
Contains dairy
£1.65
Dall Tarka
Lentils in garlic sauce
£3.95
Gobi Panir
Cauliflower & cottage cheese
Contains dairy
£3.95
Keema Muttar
Mince & green peas
£3.95
Muttar Panir
Peas & cottage cheese
Contains dairy
£3.95
Mushroom Bhaji
Freshly spiced mushrooms
£3.95
Sag Aloo
Spinach & potato
£3.95
Sag Dall
Spinach & lentil
£3.95
Sabzi Bhaji
Mixed vegetables & green peppers
£3.95
North Indian Chilli Garlic King Prawn
King prawn cooked with fresh garlic, capsicum, mint, fresh green chillies & mixed
£12.90
King Prawn & Mushroom Dupiaza
Large king prawns cooked with fresh button mushrooms, garnished with fried garlic & cumin seeds
Medium
£12.90
King Prawn Sag
Large prawns cooked with fresh spinach & a mixed lentil sauce. Garnished with fried garlic & cumin seeds
Medium
£12.90
Jessorie King Prawn Rezala
Lightly browned king prawns in grated onion, garlic, ginger & delicate spices. Cooked with whole green chillies & fresh yoghurt. Garnished with coriander leaves & butter-fried sliced onion
Medium hot
Contains dairy
£12.90
Colva King Prawn Makhani
King prawns in mild ground spices, fresh cream & a touch of mango chutney. Completed with ground nutmeg, almond flakes & coriander leaves
Mild
Contains dairy
£12.90
Akbari Fish Dupiaza
Cod fillet in traditional medium strength sauce, garnished with onion, green pepper, touch of garlic, ginger & coriander
Medium
£9.50
Anjuna King Prawn Jalfrezie
Steamed king prawns cooked with green pepper, onion, green chillies & coriander leaves in a medium hot sauce. Garnished with a touch of fresh ginger & tomato
Fairly hot
£12.90
Tandoori King Prawn Massala
King prawns marinated with tandoori spices, fresh yoghurt & lemon juice then roasted in the tandoor. Finally cooked in a mild creamy & ground almond sauce
Mild
Contains dairy
£12.90
Vegetable Pakora
We use a mixture of cauliflower, peas, potatoes & onion coated in spiced gram flour & then fried in oil, served with salad & sauce
Contains gluten
£3.50
Onion Bhaji
Our own fritters with salad & sauce
Contains gluten
£3.50
Mixed Pakora
A delicious mixture of our freshly cooked vegetable pakora, mushroom pakora & chicken pakora, served with salad & sauce
Contains gluten
£3.95
Mushroom Pakora
Whole mushroom coated in spiced gram flour fried in oil & served with salad & sauce
Contains gluten
£3.50
Aloo Chatt Puree
Potato chunks in a medium hot sauce enriched with green coriander & set on puffed fried bread
Contains gluten
£3.50
Spicy Garlic Mushroom Puree
Mushrooms cooked in fresh garlic & ginger & set on puffed fried bread, medium hot. Served with salad & sauce
Contains gluten
£3.50
Chana Puree
Chickpeas cooked with fresh garlic & coriander
Wrapped in puffed bread
Contains gluten
£3.50
Vegetable Samosa
Deep fried stuffed pastry using a mixture of fresh vegetables served with a salad & sauce
Contains gluten
£3.50
Panir Pakora
Shallow fried cheese pakora made with homemade cheese & served with salad & sauce
Contains dairy
Contains gluten
£4.95
Vindaloo Chicken
Cooked in a rich, thick sauce & very hot
Very hot
£7.20
Vindaloo King Prawn
Cooked in a rich, thick sauce & very hot
Very hot
£12.45
Vindaloo Lamb
Cooked in a rich, thick sauce & very hot
Very hot
£7.20
Vindaloo Vegetable
Cooked in a rich, thick sauce & very hot
Very hot
£6.95
Bhuna Chicken
Traditional dish garnished with onions, tomatoes & a variety of spices
Medium
£7.20
Bhuna King Prawn
Traditional dish garnished with onions, tomatoes & a variety of spices
Medium
£12.45
Bhuna Lamb
Traditional dish garnished with onions, tomatoes & a variety of spices
Medium
£7.20
Bhuna Vegetable
Traditional dish garnished with onions, tomatoes & a variety of spices
Medium
£6.95
Dupiaza Chicken
A garnished dish with lots of cubed onion, green pepper, tomato & dozens of fresh spices & herbs
Medium
£7.20
Dupiaza King Prawn
A garnished dish with lots of cubed onion, green pepper, tomato & dozens of fresh spices & herbs
Medium
£12.45
Dupiaza Lamb
A garnished dish with lots of cubed onion, green pepper, tomato & dozens of fresh spices & herbs
Medium
£7.20
Dupiaza Vegetable
A garnished dish with lots of cubed onion, green pepper, tomato & dozens of fresh spices & herbs
Medium
£6.95
Korma Chicken
Very mild & beautiful, rich & creamy
Very mild
Contains dairy
£7.20
Korma King Prawn
Very mild & beautiful, rich & creamy
Very mild
Contains dairy
£12.45
Korma Lamb
Very mild & beautiful, rich & creamy
Very mild
Contains dairy
£7.20
Korma Vegetable
Very mild & beautiful, rich & creamy
Very mild
Contains dairy
£6.95
Madras Chicken
A very popular dish from Southern India, prepared with garlic, chilli & lemon juice
Hot
£7.20
Madras King Prawn
A very popular dish from Southern India, prepared with garlic, chilli & lemon juice
Hot
£12.45
Madras Lamb
A very popular dish from Southern India, prepared with garlic, chilli & lemon juice
Hot
£7.20
Madras Vegetable
A very popular dish from Southern India, prepared with garlic, chilli & lemon juice
Hot
£6.95
Malayan Chicken
Prepared with crushed pineapple, fruit juices, ground almonds & fresh cream to create a beautifully balanced flavour
Mild
Contains dairy
Contains nuts
£7.20
Malayan King Prawn
Prepared with crushed pineapple, fruit juices, ground almonds & fresh cream to create a beautifully balanced flavour
Mild
Contains dairy
Contains nuts
£12.45
Malayan Lamb
Prepared with crushed pineapple, fruit juices, ground almonds & fresh cream to create a beautifully balanced flavour
Mild
Contains dairy
Contains nuts
£7.20
Malayan Vegetable
Prepared with crushed pineapple, fruit juices, ground almonds & fresh cream to create a beautifully balanced flavour
Mild
Contains dairy
Contains nuts
£6.95
Pathia Chicken
Prepared with garlic, red chilli, onion & tomato puree
Sweet, hot & sour
£7.20
Pathia King Prawn
Prepared with garlic, red chilli, onion & tomato puree
Sweet, hot & sour
£12.45
Pathia Lamb
Prepared with garlic, red chilli, onion & tomato puree
Sweet, hot & sour
£7.20
Pathia Vegetable
Prepared with garlic, red chilli, onion & tomato puree
Sweet, hot & sour
£6.95
Rogan Josh Chicken
A specially prepared dish with pimento & garlic. Garnished with tomato & fresh coriander
Fairly hot
£7.20
Rogan Josh King Prawn
A specially prepared dish with pimento & garlic. Garnished with tomato & fresh coriander
Fairly hot
£12.45
Rogan Josh Lamb
A specially prepared dish with pimento & garlic. Garnished with tomato & fresh coriander
Fairly hot
£7.20
Rogan Josh Vegetable
A specially prepared dish with pimento & garlic. Garnished with tomato & fresh coriander
Fairly hot
£6.95
Dhansak Chicken
A beautiful combination of spices, lentils & pineapple, mixed with curd
Hot, sweet & sour
£7.20
Dhansak Lamb
A beautiful combination of spices, lentils & pineapple, mixed with curd
Hot, sweet & sour
£7.20
Dhansak King Prawn
A beautiful combination of spices, lentils & pineapple, mixed with curd
Hot, sweet & sour
£12.45
Dhansak Vegetable
A beautiful combination of spices, lentils & pineapple, mixed with curd
Hot, sweet & sour
£6.95
Contact Us
Find Us
4 Newtonloan Toll, Gorebridge, EH234LZ
We deliver to
EH18, EH19, EH20, EH22, EH23, EH24, EH37