About Us
Memories of India is a Indian takeaway in Gorebridge. Why don't you try our Would You Like to Add Extras? or Punjabi Sabzi Achar?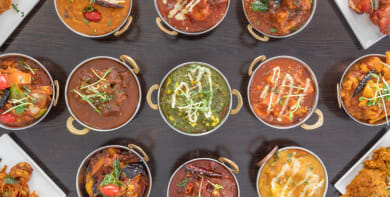 Reviews
350 reviews
Mrs
"Fantastic meal tonight, everything hot and yummy! Hopefully we'll be sitting in next time though so I don't need to do the dishes!!"
15/09/2020
Ross
"Very nice"
15/09/2020
tracy
"As always our food was delicious and delivered hot and fresh. Highly recommend the food and service received."
11/09/2020
keith
"first class - as ever"
11/09/2020
Menu
Chicken Tikka Kebab Main
Diced chicken marinated with spices, mint & herbs then grilled on skewers
Contains dairy
£7.70
Lamb Tikka Kebab Main
Diced lamb marinated with spices, mint & herbs then grilled on skewers
Contains dairy
£7.70
Shashlik Tandoori Chicken
Marinated lamb OR chicken cooked in the tandoor, sauteed with onion, tomato, green pepper, fresh coriander leaves & spring onion
Hot
Contains dairy
£9.15
Shashlik Tandoori Lamb
Marinated lamb OR chicken cooked in the tandoor, sauteed with onion, tomato, green pepper, fresh coriander leaves & spring onion
Hot
Contains dairy
£9.15
Tandoori Mixed
Tandoori chicken, chicken tikka, lamb tikka, sheek kebab & king prawn
Contains dairy
£12.90
Tandoori King Prawn Main
Marinated king prawns on skewers
Contains dairy
£12.90
King Prawn Pathia on Puree
King prawns cooked in a medium hot sauce enriched with green coriander & set on puffed fried bread
Contains gluten
£6.50
King Prawn Pakora
King prawn coated in spiced gram flour & fried in oil, served with salad & sauce
Contains gluten
£6.50
King Prawn Butterfly
King prawns fried in special batter with salad & sauce
Contains gluten
£6.50
Barbecued King Prawn
King prawns barbecued
£6.50
Fish Pakora
Haddock coated in spiced gram flour & fried in oil, served with salad & sauce
Contains gluten
£4.95
Assami Chicken Tikka Biryani
Tandoori grilled chicken tikka kebab with saffron, then stir fried with Tilda basmati rice & clarified butter. Decorated with butter-fried onion, slices of cucumber & tomato
Comes with puri bread
Contains gluten
£10.45
Assami Lamb Tikka Biryani
Tandoori grilled lamb tikka kebab with saffron, then stir fried with Tilda basmati rice & clarified butter. Decorated with butter-fried onion, slices of cucumber & tomato
Comes with puri bread
Contains gluten
£10.45
King Prawn Biryani
This is a very special festive dish in fishing villages in Karaikal. Lightly browned king prawns along with Tilda basmati rice, clarified butter. Decorated with saffron, butter-fried onion, slices of cucumber, tomato
Comes with puri bread
Contains gluten
£13.90
Old Dhaka Chicken Biryani
A nourishing preparation of Tilda basmati rice along with tender chicken pieces, clarified butter. Decorated with saffron, butter-fried onions & slices of cucumber & tomato
Comes with puri bread
Contains dairy
£9.45
Old Dhaka Lamb Biryani
A nourishing preparation of Tilda basmati rice along with tender lamb pieces, clarified butter. Decorated with saffron, butter-fried onions & slices of cucumber & tomato
Comes with puri bread
Contains dairy
£9.45
Shillong Sabzi (Veg) Biryani
A beautiful preparation of Tilda basmati rice together with steam-cooked mixed vegetables, clarified butter. Garnished with sliced cucumber, tomato & lemon
Comes with puri bread
£7.45
Sylheti Roshun Morich Chicken
Steam cooked chicken in a hot, dry, red chilli, chopped garlic, ginger & spicy tomato puree. Topped with ground roasted cumin & coriander leaves
Hot & spicy
£7.70
Tandoori Coriander Chicken
Chicken tikka cooked in mint, onion & capsicum with lots of fresh coriander
Medium to hot
Contains dairy
£7.70
Sheshni Murgh
Marinated chicken breast pieces barbecued in the clay oven & cooked in a sweet & sour sauce
Medium to hot
Contains dairy
£7.70
Mysore Chicken Tikka Makhani
Tandoori grilled tikka kebab cooked in mild spices, cream, sweet mango chutney & lime juice. Finished with ground almond powder, coriander leaves
Mild
Contains dairy
Contains nuts
£7.70
North Indian Chilli Garlic Chicken
Tandoori grilled chicken in hot chilli & fresh garlic, garnished with fresh coriander & a touch of ginger
Very hot & spicy
Contains dairy
£7.70
Redford Chicken
Diced chicken breast is cooked in fresh cream with herbs to produce this smooth mild dish
Mild
£7.70
Reshmi Chicken Chasnidar
This is a South Indian flavoured dish. Chicken tikka enhanced in a rich coconut milk sauce & a mixture of original Madrasi spices
Medium to mild
Contains dairy
£7.70
Maharam Chicken Tikka Massalam
Charcoal grilled pieces of chicken, fresh yoghurt, lemon juice & aromatic tandoori spices in a rich creamy sauce, ground almond powder, completed with fresh cream
Mild
Contains dairy
Contains nuts
£7.70
Bengali Green Chicken
Chicken cooked with green pepper, mint, fresh coriander, green chilli, mixed spices & lime juice
Hot
£7.70
Ajmeri Chicken Pista Pasanda
Finely sliced tandoori roasted chicken, cooked in ground almond, pistachio, fresh cream & mild exotic spicy based sauce. Finished with butter fried onion, broken pistachios & coriander leaves
Mild
Contains dairy
Contains nuts
£7.70
Butter Chicken
Succulent pieces of chicken tikka cooked with yoghurt & ground herbs. Smooth to taste
Mild
Contains dairy
£7.70
Chicken Jaipuri
Marinated chicken with fried mushrooms, fried onions, fresh herbs & spices
Medium to hot
Contains dairy
£7.70
Chicken Tikka Karahi
Marinated chicken tikka cooked with fresh green pepper, onions & tomato paste
Contains dairy
£7.70
Chicken Tikka Mushrooms & Cream
Chicken tikka pan-fried with mushrooms, onions, green peppers, herbs, spices & a touch of cream
Medium to hot
Contains dairy
£7.70
Chicken Tikka Nentara
Tikka chicken cooked in yoghurt, mango chutney & tomato sauce. Resulting in a tangy flavour
Contains dairy
£7.70
Chicken Tikka Sag
A delicious combination of chicken tikka with fresh spinach, onions & coriander
Medium
Contains dairy
£7.70
Jaisalmeri Chicken Jalfrezie
Diced barbecue chicken with fresh chopped green chilli, green pepper, cubed onion & fresh coriander. Garnished with grated fresh ginger
Hot & spicy
Contains dairy
£7.70
Karnataka Khum Chicken
Tender pieces of chicken kebab together with button mushrooms, fried cubed onion, green pepper & thick spicy sauce. Garnished with a pinch of fried garam massalam
Medium
Contains dairy
£7.70
Kashmiri Kata Massala
Spring chicken tikka cooked with tomato puree, red pepper, crushed garlic, ginger, coriander & exotic kashmiri spice paste. Finished with fresh chopped tomato & coriander leaves
Fairly hot
Contains dairy
£7.70
Kathmandhu Murgh
Chicken tikka kebabs deliciously cooked with fresh garlic, ginger, spring onions & lentils
Medium to hot
Contains dairy
£7.70
Ginger Murgh
Fairly hot chicken tikka dish cooked in ginger sauce with lots of coriander, producing a spice taste
Fairly hot
Contains dairy
£7.70
Green Herb Chicken
Tandoori grilled chicken in a spicy sauce of tomato, green peppers & fresh coriander leaves. Garnished with spring onions & fresh ginger
Medium to hot
Contains dairy
£7.70
Hara Massala Chicken
An extremely popular dish from West Bengal. Lightly seasoned chicken tikka cooked in peeled tomato, green peppers & fresh coriander with sauce. Garnished with spring onion
Medium
£7.70
Coconut Chicken Tikka Korma
Marinated chicken breast pieces cooked on skewers & served in a mild & creamy sauce of coconut cream & coconut milk
Mild
Contains dairy
£7.70
Chicken Tikka Dupiaza
Well maintained barbecued chicken kebab. A garnished dish with lots of cubed onion, green pepper, tomato & dozens of fresh spices & herbs
Medium
Contains dairy
£7.70
Chicken Phall
The hottest curry of them all! If you can handle this you can handle anything!
Very very hot
£7.70
Hara Massala Lamb
Steam cooked tender lamb in tomato, green pepper, fresh coriander & whole green herbs. Garnished with chopped spring onion
Medium
£7.70
Green Herb Lamb
Steam cooked lamb in a spicy sauce of tomato, green peppers, fresh coriander leaves & garnished with spring onions & sprinkles of fresh ginger
Medium to hot
£7.70
Jhansi Lamb Jalfrezie
Tender pieces of juicy lamb tikka cooked with fresh chopped green chillies, green pepper, crushed onion & fresh coriander. Garnished with a touch of grated ginger
Hot & spicy
Contains dairy
£7.70
Kanpuri Karahi Lamb
Barbecued shoulder of lamb chunks stewed in a fresh coriander, tomato, onions & spicy green chilli sauce. Completed with fried ground garam massala
Medium
£7.70
Aloo Gosht
Tender lamb cooked with potatoes, herbs & spices, medium hot & simply delicious
£7.70
Bengali Green Lamb
Lamb cooked with green pepper, mint, coriander, green chilli, mixed spices & lime juice
Hot & spicy
£7.70
Methi Gosht
Lamb cooked with herbs, methi (fenugreek) & fragrant spices
Exclusive & delectable
Medium hot
£7.70
Kulu Kata Massala Lamb
Diced pieces of lamb with sliced onion, garlic, ginger, cardamom, cloves, cinnamon, bay leaf & cumin in a thick sauce. Garnished with coriander & fried garam massala
Medium & spicy
£7.70
Lamb & Mushroom Dupiaza
Steamed cooked lamb with baby mushrooms, garnished with fresh garlic, ginger & capsicum
Medium hot
£7.70
Lamb Jaipuri
Marinated lamb tikka with fried mushrooms, fried onions, fresh herbs & spices
Medium to hot
Contains dairy
£7.70
North Indian Chilli Garlic Lamb
Steam cooked lamb in hot chilli & fresh garlic, garnished with fresh coriander & a touch of ginger
Very hot & spicy
£7.70
Old Delhi Lamb Rezala
A nourishing old Delhi style dish consisting of chopped lamb, grated onion, garlic, ginger & exotic spices. Cooked with whole green chillies, a touch of fresh yoghurt & a few drops of rose water
Medium
Contains dairy
£7.70
Punjabi Chana Gosht
Tender lamb steamed with boiled Punjabi chickpeas in a sharp ground spicy sauce & fresh lemon juice. Garnished with fresh ginger & coriander leaves
Medium & slightly sour
£7.70
Navratan Lamb Tikka Makhani
Marinated lamb cooked in mild ground spices with fresh cream, a touch of mango chutney & lime juice. Garnished with fresh coriander leaves & halved tomato
Sweet & Sour
Contains dairy
£7.70
Peshwari Lamb Pasanda
Thinly sliced tikka lamb with freshly ground almond, pistachios, fresh cream & mild spicy sauce. Finished with butter fried onion, broken pistachios & coriander leaves
Mild
Contains dairy
Contains nuts
£7.70
Udaipuri Lamb Tikka Massalam
Pieces of lamb roasted in the tandoor, then cooked in a natural yoghurt, cream, lemon & tandoori flavoured spicy sauce. Decorated fresh cream & coriander
Mild
Contains dairy
£7.70
Sylheti Roshun Morich Lamb
Steam cooked lamb in a hot, dry red chilli, chopped garlic, ginger & tomato puree sauce
Hot & spicy
£7.70
Sag Gosht
Steam cooked lamb with fresh spinach, chopped garlic & whole green herb sauce. Garnished with green chillies & coriander leaves
Medium hot
£7.70
Vegetable Jalfrezie
Mixed fresh vegetables with chopped fresh green chillies, green peppers, cubed onions, garlic, grated ginger & coriander
Hot & spicy
£6.95
Pune Tandoori Beigan
A whole clay oven roasted aubergine stuffed with potato, cauliflower, chickpeas & cashew casserole, accompanied with fresh & crunchy bean salad
Medium
£6.95
North Indian Chilli Garlic Vegetable
Mixed fresh vegetables, cooked with hot fresh chilli, chopped garlic, ginger, onions, coriander, green pepper & spices
Very hot & spicy
£6.95
Pushkari Sag Panir
Steam cooked fresh spinach with homemade cottage cheese, in mild to medium Pushkari style spices. A very popular dish
Medium
Contains dairy
£6.95
Mixed Sabzi Almond Korma
Mixed vegetables, prepared with fresh cream, coconut, ground almond & mild spices. Garnished with sultanas & flaked almonds
Mild
Contains dairy
Contains nuts
£6.95
Madrasi Sag Mushroom
Steam cooked fresh spinach & whole button mushrooms tossed with finely milled madrasi spices, including mustard seeds. Garnished with roasted cumin
Hot
£6.95
Kashmiri Sabzi Karahi
Crunchy vegetables cooked in a tomato puree, red pepper, crushed garlic, ginger & kashmiri spices. Garnished with chopped tomatoes & coriander leaves
Medium
£6.95
Bombay Beigan & Mushroom Jalfrezie
Diced aubergine & whole button mushrooms cooked with green pepper, onions & green chilli in a medium spicy sauce. Garnished with ginger & coriander
Fairly hot
£6.95
Punjabi Sabzi Achar
Mixed vegetables combined with boiled chickpeas in a sharp ground spicy sauce with a touch of Punjabi pickle. Garnished with a slice of lemon & coriander leaves
Fairly hot
£6.95
Sabzi Nouratan Bahar
Mix of 9 seasonal vegetables - potatoes, peas, carrots, cauliflower, cabbage, green pepper, onion, mushrooms & aubergines stir fried with healthy herbs & spices
Garnished with homemade panir
Medium
£6.95
Sabzi Lanka Dall
Selection of vegetables steamed-cooked with chopped green chilli, coriander & mixed lentils with a touch of fresh ginger
Fairly hot
£6.95
Mint Sauce
Contains dairy
£0.60
Balti Achar Gosht
Chunky lamb cooked with various fresh herbs, pickles & tomato
£7.70
Balti King Prawn Rushni
King sized prawns cooked with garlic & flavoured balti sauce
£12.90
Balti Murgh Rushni
Diced chicken cooked in medium strength balti sauce, flavoured with garlic
£7.70
Chicken Tikka Balti
A traditional stir fried dish. We use onion & capsicum with selected spices to create the distinct flavour of the balti
£7.70
Chapati
Unleavened whole wheat bread
Contains gluten
£1.40
Garlic Nan
Stuffed with crushed garlic & coriander
Contains dairy
Contains gluten
£2.90
Puri
Deep fried thin bread
Contains gluten
£1.40
Sabzi Paratha
Stuffed with mashed mixed vegetables
Contains dairy
Contains gluten
£2.90
Peshwari Nan
Stuffed with sultanas, almond & coconut
Contains dairy
Contains nuts
Contains gluten
£2.90
Plain Nan
Fluffy tandoori baked leavened bread
Contains dairy
Contains gluten
£2.50
Plain Paratha
Butter fried unleavened bread
Contains dairy
Contains gluten
£2.90
Keema Nan
Stuffed with spiced minced meat
Contains dairy
Contains gluten
£2.90
Chicken Tikka Starter
Marinated pieces of chicken breast freshly cooked in the clay & served with salad & sauce
Contains dairy
£3.95
Lamb Tikka Starter
Marinated pieces of lamb freshly cooked in the clay oven & served with salad & sauce
Contains dairy
£3.95
Chicken Tikka Pakora
Marinated chicken breast fried in a spicy batter & served with salad & sauce
Contains dairy
Contains gluten
£3.95
Sheekh Kebab
Tender minced lamb with spices, mint & herbs, grilled on skewers & served with salad & sauce
Contains dairy
£3.95
Mixed Starter
A mixture of chicken tikka, lamb tikka, sheikh kebab, chicken & vegetable pakora, served with salad & sauce
Contains dairy
Contains gluten
£4.95
Chicken Chatt
Chicken breast pieces cooked in a medium hot sauce & served on puffed bread
Contains gluten
£4.95
Lamb Samosa
Deep-fried stuffed savoury pasty using tender pieces of lamb & served on puffed bread
Contains gluten
£3.95
Shami Lamb Kebab with Fried Onions
Delicious minced lamb kebabs topped with fried onion & served with salad & our special yoghurt sauce
Contains dairy
£3.95
Keema Rice
Pilau rice with spicy minced meat
Contains dairy
£3.50
Mushroom Fried Rice
Pilau rice with sliced mushrooms
Contains dairy
£3.50
Ghee Pilau Rice
Basmati fried rice in purified butter with onions & fresh coriander
Contains dairy
£3.50
Chickpea Fried Rice
Pilau rice with chickpeas
Contains dairy
£3.50
Egg & Pea Fried Rice
Pilau rice with egg & green peas
Contains dairy
£3.50
Basmati Plain Boiled Rice
£2.60
Vegetable Fried Rice
Pilau rice with mixed vegetables
Contains dairy
£3.50
Tilda Basmati Pilau Rice
Saffron rice
£2.90
Bhindi Bhaji
Freshly spiced okra
£3.95
Aloo Mushroom
Potato & mushroom
£3.95
Aloo Panir
Potato & cottage cheese
Contains dairy
£3.95
Anaros Dall Sambar
Pineapple in lentil & tamarind sauce
£3.95
Aloo Beigan Bhaji
Potato & aubergine
£3.95
Aloo Gobi
Potato & cauliflower
£3.95
Bombay Aloo Bhaji
Spiced potato
£3.95
Chana Aloo
Potato & chickpeas
£3.95
Chana Bhuna
Chickpeas in coriander sauce
£3.95
Chana Mushroom
Chickpeas & mushroom
£3.95
Chingri Beigan Bhaji
Prawns & chopped aubergine
£7.45
Cucumber Raita
Freshly spiced yoghurt with sliced onion, tomato, cucumber & cumin seeds
Contains dairy
£1.65
Dall Tarka
Lentils in garlic sauce
£3.95
Gobi Panir
Cauliflower & cottage cheese
Contains dairy
£3.95
Keema Muttar
Mince & green peas
£3.95
Muttar Panir
Peas & cottage cheese
Contains dairy
£3.95
Mushroom Bhaji
Freshly spiced mushrooms
£3.95
Sag Aloo
Spinach & potato
£3.95
Sag Dall
Spinach & lentil
£3.95
Sabzi Bhaji
Mixed vegetables & green peppers
£3.95
North Indian Chilli Garlic King Prawn
King prawn cooked with fresh garlic, capsicum, mint, fresh green chillies & mixed
£12.90
King Prawn & Mushroom Dupiaza
Large king prawns cooked with fresh button mushrooms, garnished with fried garlic & cumin seeds
Medium
£12.90
King Prawn Sag
Large prawns cooked with fresh spinach & a mixed lentil sauce. Garnished with fried garlic & cumin seeds
Medium
£12.90
Jessorie King Prawn Rezala
Lightly browned king prawns in grated onion, garlic, ginger & delicate spices. Cooked with whole green chillies & fresh yoghurt. Garnished with coriander leaves & butter-fried sliced onion
Medium hot
Contains dairy
£12.90
Colva King Prawn Makhani
King prawns in mild ground spices, fresh cream & a touch of mango chutney. Completed with ground nutmeg, almond flakes & coriander leaves
Mild
Contains dairy
£12.90
Akbari Fish Dupiaza
Cod fillet in traditional medium strength sauce, garnished with onion, green pepper, touch of garlic, ginger & coriander
Medium
£9.50
Anjuna King Prawn Jalfrezie
Steamed king prawns cooked with green pepper, onion, green chillies & coriander leaves in a medium hot sauce. Garnished with a touch of fresh ginger & tomato
Fairly hot
£12.90
Tandoori King Prawn Massala
King prawns marinated with tandoori spices, fresh yoghurt & lemon juice then roasted in the tandoor. Finally cooked in a mild creamy & ground almond sauce
Mild
Contains dairy
£12.90
Vegetable Pakora
We use a mixture of cauliflower, peas, potatoes & onion coated in spiced gram flour & then fried in oil, served with salad & sauce
Contains gluten
£3.50
Onion Bhaji
Our own fritters with salad & sauce
Contains gluten
£3.50
Mixed Pakora
A delicious mixture of our freshly cooked vegetable pakora, mushroom pakora & chicken pakora, served with salad & sauce
Contains gluten
£3.95
Mushroom Pakora
Whole mushroom coated in spiced gram flour fried in oil & served with salad & sauce
Contains gluten
£3.50
Aloo Chatt Puree
Potato chunks in a medium hot sauce enriched with green coriander & set on puffed fried bread
Contains gluten
£3.50
Spicy Garlic Mushroom Puree
Mushrooms cooked in fresh garlic & ginger & set on puffed fried bread, medium hot. Served with salad & sauce
Contains gluten
£3.50
Chana Puree
Chickpeas cooked with fresh garlic & coriander
Wrapped in puffed bread
Contains gluten
£3.50
Vegetable Samosa
Deep fried stuffed pastry using a mixture of fresh vegetables served with a salad & sauce
Contains gluten
£3.50
Panir Pakora
Shallow fried cheese pakora made with homemade cheese & served with salad & sauce
Contains dairy
Contains gluten
£4.95
Vindaloo Chicken
Cooked in a rich, thick sauce & very hot
Very hot
£7.20
Vindaloo King Prawn
Cooked in a rich, thick sauce & very hot
Very hot
£12.45
Vindaloo Lamb
Cooked in a rich, thick sauce & very hot
Very hot
£7.20
Vindaloo Vegetable
Cooked in a rich, thick sauce & very hot
Very hot
£6.95
Bhuna Chicken
Traditional dish garnished with onions, tomatoes & a variety of spices
Medium
£7.20
Bhuna King Prawn
Traditional dish garnished with onions, tomatoes & a variety of spices
Medium
£12.45
Bhuna Lamb
Traditional dish garnished with onions, tomatoes & a variety of spices
Medium
£7.20
Bhuna Vegetable
Traditional dish garnished with onions, tomatoes & a variety of spices
Medium
£6.95
Dupiaza Chicken
A garnished dish with lots of cubed onion, green pepper, tomato & dozens of fresh spices & herbs
Medium
£7.20
Dupiaza King Prawn
A garnished dish with lots of cubed onion, green pepper, tomato & dozens of fresh spices & herbs
Medium
£12.45
Dupiaza Lamb
A garnished dish with lots of cubed onion, green pepper, tomato & dozens of fresh spices & herbs
Medium
£7.20
Dupiaza Vegetable
A garnished dish with lots of cubed onion, green pepper, tomato & dozens of fresh spices & herbs
Medium
£6.95
Korma Chicken
Very mild & beautiful, rich & creamy
Very mild
Contains dairy
£7.20
Korma King Prawn
Very mild & beautiful, rich & creamy
Very mild
Contains dairy
£12.45
Korma Lamb
Very mild & beautiful, rich & creamy
Very mild
Contains dairy
£7.20
Korma Vegetable
Very mild & beautiful, rich & creamy
Very mild
Contains dairy
£6.95
Madras Chicken
A very popular dish from Southern India, prepared with garlic, chilli & lemon juice
Hot
£7.20
Madras King Prawn
A very popular dish from Southern India, prepared with garlic, chilli & lemon juice
Hot
£12.45
Madras Lamb
A very popular dish from Southern India, prepared with garlic, chilli & lemon juice
Hot
£7.20
Madras Vegetable
A very popular dish from Southern India, prepared with garlic, chilli & lemon juice
Hot
£6.95
Malayan Chicken
Prepared with crushed pineapple, fruit juices, ground almonds & fresh cream to create a beautifully balanced flavour
Mild
Contains dairy
Contains nuts
£7.20
Malayan King Prawn
Prepared with crushed pineapple, fruit juices, ground almonds & fresh cream to create a beautifully balanced flavour
Mild
Contains dairy
Contains nuts
£12.45
Malayan Lamb
Prepared with crushed pineapple, fruit juices, ground almonds & fresh cream to create a beautifully balanced flavour
Mild
Contains dairy
Contains nuts
£7.20
Malayan Vegetable
Prepared with crushed pineapple, fruit juices, ground almonds & fresh cream to create a beautifully balanced flavour
Mild
Contains dairy
Contains nuts
£6.95
Pathia Chicken
Prepared with garlic, red chilli, onion & tomato puree
Sweet, hot & sour
£7.20
Pathia King Prawn
Prepared with garlic, red chilli, onion & tomato puree
Sweet, hot & sour
£12.45
Pathia Lamb
Prepared with garlic, red chilli, onion & tomato puree
Sweet, hot & sour
£7.20
Pathia Vegetable
Prepared with garlic, red chilli, onion & tomato puree
Sweet, hot & sour
£6.95
Rogan Josh Chicken
A specially prepared dish with pimento & garlic. Garnished with tomato & fresh coriander
Fairly hot
£7.20
Rogan Josh King Prawn
A specially prepared dish with pimento & garlic. Garnished with tomato & fresh coriander
Fairly hot
£12.45
Rogan Josh Lamb
A specially prepared dish with pimento & garlic. Garnished with tomato & fresh coriander
Fairly hot
£7.20
Rogan Josh Vegetable
A specially prepared dish with pimento & garlic. Garnished with tomato & fresh coriander
Fairly hot
£6.95
Dhansak Chicken
A beautiful combination of spices, lentils & pineapple, mixed with curd
Hot, sweet & sour
£7.20
Dhansak Lamb
A beautiful combination of spices, lentils & pineapple, mixed with curd
Hot, sweet & sour
£7.20
Dhansak King Prawn
A beautiful combination of spices, lentils & pineapple, mixed with curd
Hot, sweet & sour
£12.45
Dhansak Vegetable
A beautiful combination of spices, lentils & pineapple, mixed with curd
Hot, sweet & sour
£6.95
Contact Us
Find Us
4 Newtonloan Toll, Gorebridge, EH234LZ
We deliver to
EH18, EH19, EH20, EH22, EH23, EH24, EH37